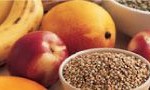 Dietary fads come and go, but the basic principles of healthy eating are pretty simple…Avoid processed food, choosing instead 'whole' foods – food that is pretty close to the way you would find it in it's natural form. Read ingredient lists, and avoid foods with lists that are overly long and have ingredients in it that you are not sure what they are!
A cornerstone principle of healthy eating is maintaining and regulating blood sugar levels. This is best achieved through a diet that is low GI and full of fresh foods.
How to maintain a good balance
All the food we eat has an impact on our blood sugar levels. Refined carbohydrates such as white bread, rice and pasta, and simple sugars such as glucose, are absorbed in quickly by the body, which results in sharp rises in bloods sugar levels.
What we eat and when we eat it is important to keep our blood sugar levels within healthy limits. The 'glycemic index' or GI of food is a good guide to the rate energy is released from food for our body to use. The slower it is released, the better…which translates to the GI level of a food…the lower the GI number the better.
This should not be the only guideline when choosing what to eat as some foods with a low GI, for example ice-cream, are also full of nasties and 'bad' fats.
Fibre is also important to keep blood sugar levels in a good range because it slows down the digestion and absorption of carbohydrates, which in turn prevents rapid rises in blood sugar levels. Good sources of fibre to include in a daily diet include – a range of fruit and vegies (skin on where possible), legumes and beans such as kidney beans, chickpeas and lentils, whole grains like brown rice, wholemeal pasta, barley and quinoa, as well as good fibre sources like oat bran, linseeds and psyllium husks.
Although the GI of food is not often displayed on packaging, there are many websites and books that have comprehensive lists.  Check out the data base at:
Easy guidelines for maintaining good blood sugar levels

Eat plenty of fibre rich foods – including whole grains, fruit and vege, legumes and beans
Avoid processed and refined carbohydrates such as white flour products (even multi-grain bread although better is still often white flour with some grains put back in, read labels carefully!)
Eat smaller amounts more frequently – between meals have healthy snacks that may include a handful of raw nuts and a piece of fruit, or hummus with celery or carrot sticks
Include some protein with each meal, this can be achieved by simply adding some nuts to your cereal, or some chickpeas or tuna to a salad, add quinoa to your rice
Limit alcohol intake – remember that "light" beers etc are often just lighter in alcohol, not calories which is what affect blood sugar levels
Avoid foods with added sugar like cakes, biscuits and sweets – read labels carefully as added sugar can have other names such as sucrose, glucose, maltose, fructose, corn syrup etc
Exercise regularly – it has beneficial effects on blood sugar metabolism, energy levels and mood
A low GI diet doesn't need to be complicated.  Eating foods as close as possible to their natural state is a great starting point, not only for better blood sugar regulation, but as a general rule for a healthy diet.  Contact me if you would like any further info!